This summary is based on Judicium's HR 'Sofa Session' from the 19th of April, with our resident expert Jenny Salero, LLB (Hons), L.P.C. This session focused on the best way to approach performance concerns, particularly during the hectic summer term, balancing the needs of the school against the welfare of the employee and those responsible for overseeing any process, and top tips for managing capability concerns and pitfalls to avoid during the summer term.
Poll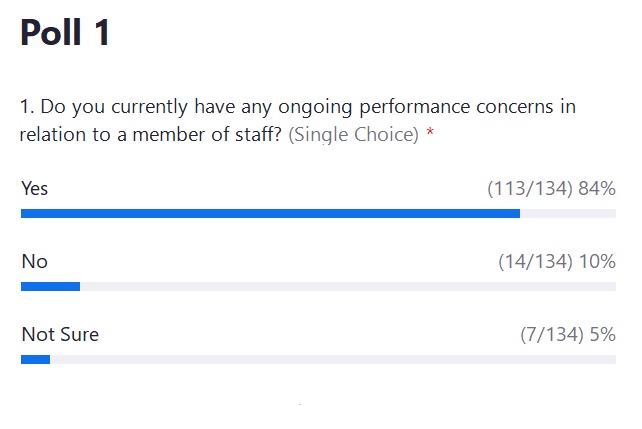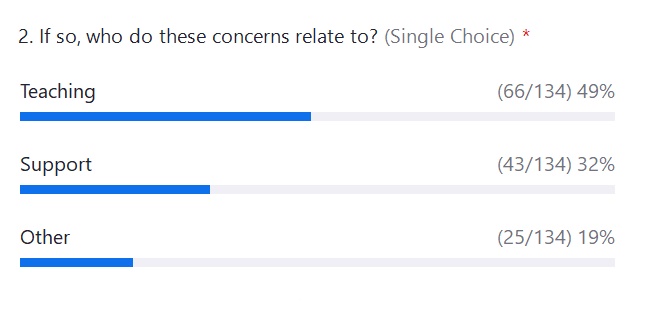 Aside from sickness and disciplinary issues, we have found that capability is one of the most difficult areas schools and Trusts must manage.
When we are referring to capability, we are talking about a situation we like to call 'can't do.' This means it's an area where an employee can't perform due to various reasons including training, workload, etc. In contrast, when an employee 'won't do' a task or target, that falls into the disciplinary process.
The DfE model suggests an informal appraisal process which encompasses discussions around performance concerns before transitioning to a formal capability process.
How to Approach Performance Concerns During the Summer Term
In terms of the capability process itself, many employees see both the informal and formal stages as a punitive process. However, the aim of a capability process is to be supportive and to help an individual reach the expected standards of performance.
The best starting point is to determine whether you believe you can handle the process informally. Some good questions to ask yourself are:
Could it be resolved with a quick chat, extended timeframes for work, etc?
Did these discussions occur previously?
Have you initiated short term targets?
Have you provided a support package for the employee?
Did you review their performance and has there been any improvement?
Our recommendation regarding performance is to tackle any issues as they arise informally as this process tends to resolve the issues more quickly. If the informal process is unsuccessful, you can move forward with the formal capability process.
NB: Unless your policy states otherwise, we do not recommend allowing union or employee representatives to attend informal meetings. However, this is discretionary and there may be exceptions. We do recommend you allow such representatives to attend formal meetings.
The timeframe for monitoring and reviewing should be set out within your individual school's policy. Although the timetable will depend on the circumstances of the individual case, the DfE template policy states between four and ten weeks in straightforward situations.
Some common responses to both an informal and formal capability process which can pose more difficulties in the summer term include:
Practical implications from the person being signed-off sick
Employee raising a grievance and subsequent investigation
Staff resignation
Just because it is the summer term does not mean you should not take action, but weighing up operational issues is important at this time of year.
Ensure you give your staff overseeing the capability process enough time to prepare for the meetings. Also, providing brief information to your employee about what concerns are being raised about their performance can keep the process transparent and stop them from feeling like they are 'in the dark' about what is coming. NB: Take notes! (This could be as simple as an email confirming what was discussed or a log in a notebook and does not need to be formal minutes, etc.)
Top Tips and Pitfalls to Avoid
1. Think about timings of any discussions.
This is particularly relevant for the Summer Term when looking at both key deadlines but also resignations.
Preparing and planning for these practicalities enables you to decide whether you want to start the capability process.
2. Ensure notes/records are kept of key discussions.
This is essential if moving to the formal capability stage as you will need to evidence that a process has been followed, i.e., SMART targets.
Only the formal capability meeting should have a notetaker and formal minutes which should be shared with the employee. All other meetings or interactions can have informal notes.
3. Set fair, SMART targets.
This is essential to keeping the process supportive.
Targets must be reasonable regardless of whether you are following the informal or formal process.
You should also consider the length of review timeframe. A shorter review period may have the opposite impact and prolong the process rather than getting you to the finish line more quickly.
4. Use a combination of feedback and support.
Ask the employee what they think may help them in terms of support.
Observations are a primary means of providing feedback, but many employees and unions do not consider them to be supportive as it can increase the employee's stress or anxiety.
Try offering alternatives such as mentoring, further training options or an Employee Assistance Program (EAP) as a full support package.
Having a colleague or someone to provide additional emotional support for the employee going through the process can be beneficial.
5. Don't forget about staff overseeing the process.
Although going through the capability process can be very difficult for the employee, it can be equally as difficult for experienced line managers or senior leaders.
The process is time consuming and is usually in addition to their normal workload.
It can become very personal, especially if a grievance is subsequently raised against them.
Offering support and ensuring their wellbeing isn't affected is important.
Helpful Info:
Upcoming HR Training:
Managing Capability within the Education Sector on Tuesday, 9th May 1:30pm-4:30pm.
Managing Difficult Conversations on Thursday, 11th May 9:30am-12:30pm
If you'd like to review Judicium's forthcoming sofa sessions for next term please click here
Follow us on Twitter: @JudiciumEDU
© This content is the exclusive property of Judicium Education. The works are intended to provide an overview of the sofa session you attend and/or to be a learning aid to assist you and your school. However, any redistribution or reproduction of part or all of the contents in any form is prohibited. You may not, except with our express written permission, distribute or exploit the content. Failure to follow this guidance may result in Judicium either preventing you with access to our sessions and/or follow up content.